Make the most of your M&S Food Boxes
Our new range of fresh veg and meat boxes are available to order online now. We asked chef Chris Baber to share some tasty recipe ideas using the delicious ingredients from the boxes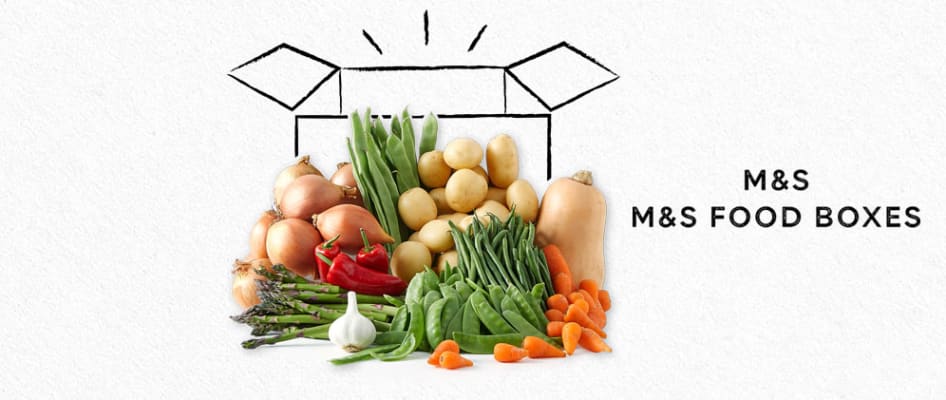 Moroccan veggie stew with lemon harissa couscous
"Packed full of veggies from the mixed seasonal vegetable food box, including new potatoes, butternut squash and Chantenay carrots, this stew is perfect for dinner in the garden and is just as delicious the next day for lunch," says Chris Baber.

Serves 4
Prep time: 10 minutes
Cook time: 45 minutes
Ingredients
Olive oil
3 onions, sliced
1 butternut squash, peeled and diced into 2cm chunks
2 cloves garlic, sliced
8 new potatoes, cut into quarters
? tsp ground cinnamon
2 tsp ground cumin
1 tbsp Cook with M&S rose harissa paste
1 vegetable stock cube, crumbled
250g Chantenay carrots, cut in half lengthways
400g chopped tomatoes
400ml water
1 bunch parsley, chopped
1 lemon, zested
300g couscous
1 tsp Cook with M&S rose harissa paste
? lemon, juiced
2 tbsp olive oil

Method
For the stew, heat a splash of olive oil in a large pan. Fry the onions with salt and pepper over a medium heat for 5 minutes until lightly golden.
Add the butternut squash, garlic and potatoes, and continue to fry for 5 minutes.
Add the cinnamon, cumin, Cook with M&S rose harissa paste and stock cube, stir, and cook for 1 minute.
Next, add the carrots, chopped tomatoes and water. Season with salt and pepper. Bring to the boil, covering loosely with a lid, and simmer for 20–30 minutes until the carrots are tender and the sauce is thick.
Once cooked, check the seasoning, then stir in the chopped parsley and lemon zest.
Cook the couscous as per packet instructions then add the rose harissa paste and lemon juice and season with salt. Fluff up with a fork and drizzle with a little olive oil.
Serve the stew on a bed of couscous.
Top tip: this flavour-packed stew is delicious topped with crumbled feta.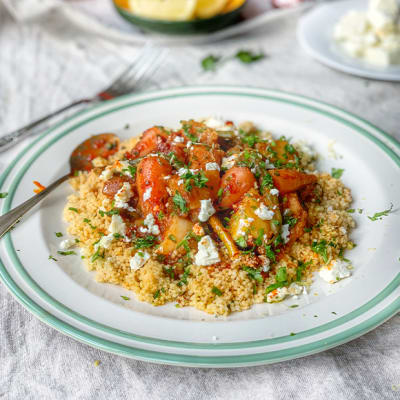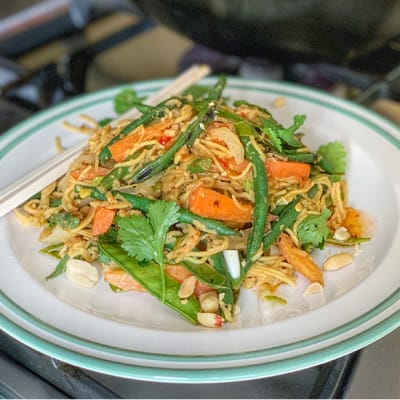 Veggie satay noodles
"Cook up a family favourite in a flash with my delicious veggie satay noodle dish. Using carrots, Boston beans, onions, chilli and garlic from the mixed seasonal vegetable food box, the noodles are finished with a sticky sweet sauce."

Serves 2
Prep time: 10 minutes
Cook time: 10 minutes
Ingredients
4 tbsp boiling water
2 tbsp peanut butter
2 tbsp soy sauce
2 tbsp sweet chilli sauce
? lime, juiced
2 nests egg noodles
1 tbsp vegetable oil
150g carrots, cut into thin matchsticks
150g M&S Select Farms Boston beans, halved
1 onion, sliced
100g mangetout, thinly sliced lengthways
1 garlic clove, finely chopped
1 chilli, finely chopped
? lime, juiced
Coriander, chopped
Peanuts, crushed
Spring onions, thinly sliced
Method
To make the sauce, mix the boiling water with the peanut butter, soy sauce, sweet chilli sauce and lime juice. Set aside.
Cook the noodles in boiling water, according to packet instructions, drain, and set aside.
Heat a wok or non-stick frying pan over a high heat with a splash of vegetable oil.
Stir fry the carrots and Boston green beans for three minutes, until they begin to char. If the pan becomes too dry, add a dash of water.
Next add the onion, mangetout, garlic and chilli, and stir fry for a further three minutes until the onion begins to colour.
Add the noodles and fry for one minute, then pour in the sauce and toss everything together ensuring all the vegetables and noodles are coated. Cook for a further minute and remove from the heat.
Serve topped with a squeeze of lime, some chopped coriander, crushed peanuts and spring onion slices
Cheese and bacon loaded wedges
"The 100% British meat food box is excellent value and is perfect for stocking up the freezer with family favourites such as sausages, steak, mince and bacon. Think bacon is just for brekkie? Think again. Try these chunky wedges, which are loaded with crispy bacon, melted cheese and a kick of spice. Serve on their own or as a side to a fakeaway feast."
Serves 4
Prep time: 5 minutes
Cook time: 50 minutes
Ingredients
1kg Maris Piper potatoes, peeled and cut into even wedges
1 tbsp olive oil
2 tsp smoked paprika
6 slices M&S unsmoked back bacon, cut into thin strips
150g Cornish Cove cheddar cheese, grated
1 chilli, thinly sliced (optional)
1 bunch spring onions, sliced
1 pot soured cream
Salad, to serve
Method
Preheat the oven to 200°C/180°C fan/gas mark 6.
Place the potato wedges onto a baking tray, drizzle with olive oil, and add salt, pepper and smoked paprika. Toss together to evenly coat each wedge and bake for 35 minutes.
Remove from the oven, turn the wedges over, and scatter over the bacon strips. Turn the oven up to 220°C/200°C fan/gas mark 7, and bake for another 10–12 minutes, until the bacon is beginning to crisp.
Remove from the oven again and scatter over the grated cheddar cheese and chilli, if you are using. Bake again for a few minutes until the cheese is melted.
Serve with a scattering of spring onions, a dollop of soured cream, and some salad.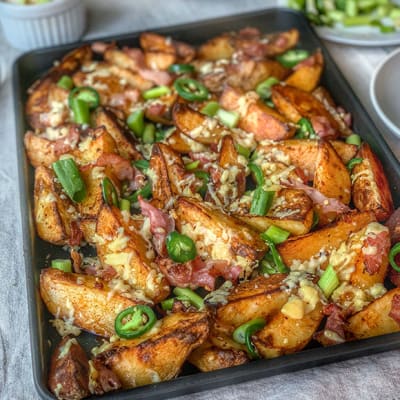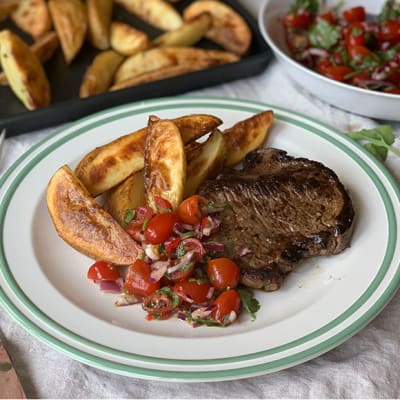 Summery steak and potato wedges with zingy tomato salsa
"Serve up the ultimate Friday night treat with M&S Select Farms British rump steaks, available in the 100% British meat food box, crispy potato wedges, and a fresh tomato salsa. Cooking for little ones? Use the pork chipolatas from the box instead of the steaks and leave out the chilli in the salsa."
Serves 2
Prep time: 10 minutes
Cook time: 45 minutes
Ingredients
400g ripe M&S Select Farms tomatoes, diced
1 small red onion, finely diced
Small bunch of coriander, chopped
1 chilli pepper, finely sliced (optional)
? lime, zested and juiced
3 tbsp extra virgin olive oil
500g potatoes, cut into wedges
5 tbsp olive oil
2 M&S Select Farms rump steaks, at room temperature
Method
Add the tomatoes, onion and coriander to a bowl and season with salt and pepper. If you like spice, this when you can add some sliced chilli. Add the lime zest and juice, drizzle in the extra virgin olive oil, and give it all a good mix. Taste to check the seasoning: you may want more lime, salt or oil.
To let the flavours marinate and develop, allow the salsa to sit on the side at room temperature while you cook the rest of the dish.
Preheat the oven to 200°C/180°C fan/gas mark 6. Drizzle the potato wedges with most of the olive oil and season with salt and pepper. Toss together so the wedges are evenly coated in the oil. Place on a baking tray and bake for around 45 minutes, turning once, until golden and cooked right through.
Drizzle the rump steaks with the remainder of the olive oil, and season with salt and pepper. Heat a frying pan over a high heat, add the steaks, and cook for two minutes on each side, or longer if you prefer your steak more well done. Let the steaks become lovely and caramelised before turning and avoid moving them around too much. Allow the steaks to rest for five minutes before serving.
Serve the steaks with the crispy potato wedges and tomato salsa.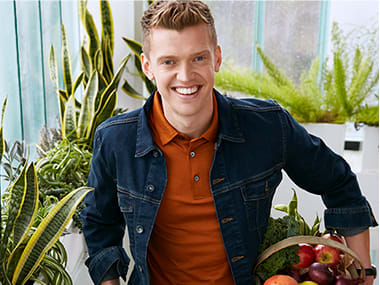 Chris Baber recipes
Looking for kitchen inspiration? Chef Chris Baber's family recipes are here to help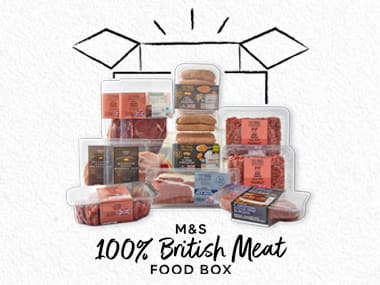 M&S Food Boxes
Get delicious M&S food delivered to your doorstep, including fruit, vegetables, store cupboard essentials and British meat